Title:
Grapes of Wrath and other Forbidden Fruit
Author:
astri13
Genre:
RPS AU
Characters/Pairings:
Jensen/Jared, hints of Tom/Mike
Rating:
NC 17
Total word Count:
20.733
Notes/Credits:
Written for
spn_harlequin
, therefore prepare for crackilicious schmooooop.
Jared does indeed have a brother named Jeff so not be confused with Jeffrey Dean here. :) Also, real life family members are borrowed for dramatic licence only, I`m sure they are perfectly nice guys.
My deepest gratitude for a terrific beta to the lovely
janissa11
and
xkatjafx
. All remaining mistakes are my own.
Disclaimer:
No copyright infringement intended; fair use only. Not created for profit
Summary:
Jared Padalecki only knows one goal in life: revenge on his twin brother Jeffrey who stole their family company. A chance encounter with Jeff's fiancé Jensen might give him the perfect opportunity to get it.
Many thanks to
xkatjafx
for creating this awesome cover: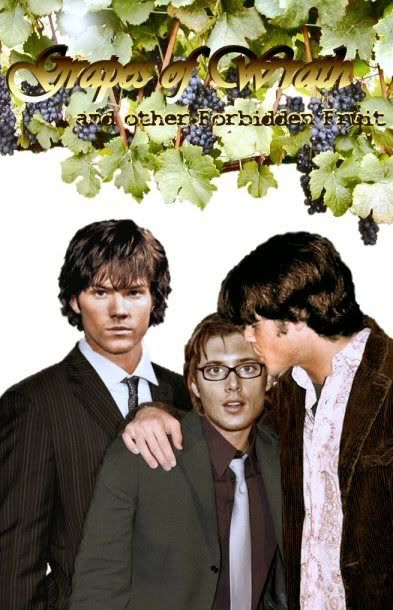 Chapter 1
-
Chapter 2
-
Chapter 3
-
Chapter 4
-
Epilogue
Current Mood:

anxious